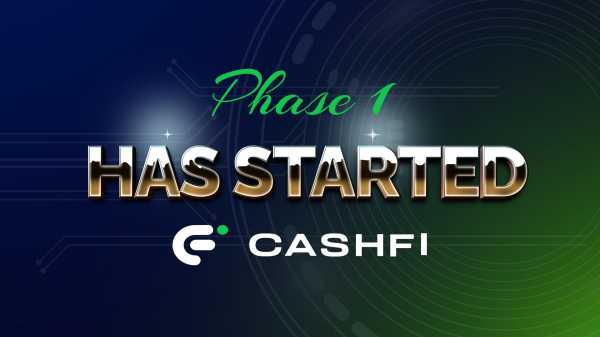 It could be the future of banking and is quickly taking over traditional banking. Some cryptos are dedicated to this, like Avalanche (AVAX), Chainlink (LINK) and now CashFi (CFI). Which is about to make its own impact in the DeFi space like its predecessors.
Next-Generation Network; CashFi (CFI)
CashFi (CFI) is a next-gen decentralized platform with its native ERC20 token, CFI. It has plans to build collaborations and connections by introducing its users to a variety of asset classes like liquid staking and NFTs. It will use a unique fee-sharing system to give its investors access to the asset classes. With the platform's interoperable and decentralized network which has access to a large number of digital assets, it will revolutionize the current DeFi situation and enable its users.
Being that the platform is familiar with staking options, CashFi (CFI) has plans to enable its users to unlock liquidity for a higher profit by staking CFI tokens. It will also provide an inter-chained CFI NFT marketplace and a centre that is dedicated to minting NFTs smoothly and at a low cost on multiple chains. In addition to that, CashFi (CFI) will also provide staking infrastructure which will add to the security of leading digital networks around the world.
The native token, CFI, will provide a myriad of benefits for its users. It will power its DeFi and NFT marketplace and will support the network's ecosystem including liquid staking, CFI NFTs, and synthetics. Holders will also be able to partake in its governance by submitting suggestions and voting on the network's development and changes to improve the ecosystem.
Avalanche (AVAX)
Avalanche (AVAX) was launched in 2020 by Ava Labs. Measured by time to finality, It is the fastest smart contracts platform in the blockchain industry. Its goals are to provide a blockchain that is scalable, secure, decentralized, and environment friendly with low cost and high transaction speeds. It can perform 4,500 transactions per second (TPS).
Avalanche (AVAX) is fully compatible with Ethereum's blockchain network. This works out great for it due to Ethereum's popularity in the crypto world. It allows developers to launch Ethereum DApps that process tons of transactions per second which is far more than any decentralized blockchain network today. The platform currently hosts over 170 projects from GameFi to DeFi.
Due to the growing number of developers using AVAX, the token's value has been predicted to go up and reach about $350 in 2025, 3 years from now.
Chainlink (LINK)
Chainlink (LINK) is a network developed to provide data from off blockchain sources to on-blockchain smart contracts through oracles. A blockchain oracle is any program that services a smart contract giving it data from an off-chain source or connecting it with an off-chain network.
Through a decentralized oracle network, Chainlink (LINK) allows blockchains to interact securely with external data and systems providing the important off-chain information that complex smart contracts require to become the main form of digital agreement. Off-chain data or real-world data is the global data and information that exists outside the blockchain network and must be brought into the blockchain through oracles. These real-world data are necessary for smart contracts because the data generated on the blockchain alone is very limited.
Chainlink (LINK) substantially improves the capacity of smart contracts by giving them access to real-world data and off-chain information while maintaining the reliability and security requirements of blockchain technology.
For More Information On CashFi (CFI)
Presale: https://enter.cashfi.finance/register
Website: https://cashfi.finance/
Telegram: https://t.me/CashFi_Token
Twitter: https://twitter.com/CashFi_Token
Instagram: https://www.instagram.com/cashfitoken