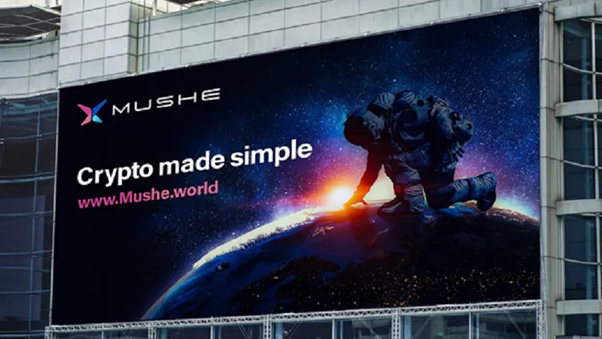 Cryptocurrencies are constantly evolving, with new coins and tokens entering the market all the time. In this blog post, we'll take a look at three coins that are bringing innovative new features to the cryptocurrency market. These include Mushe (XMU), Chainlink (LINK), and Looprin (LRC). Keep reading to find out more about each of these projects.
Mushe (XMU) With Its Increasing Market Value
Mushe (XMU) project, which has a strong roadmap, has taken its place in the portfolios of countless investors since the pre-sale process. While the ecosystem is progressing with a highly developed project, it also manages to make token holders happy. Mushe (XMU) continues to increase in value with increasing momentum, starting with the pre-sale process. Holders state that they have high expectations, especially for the medium and long term.
The ecosystem carries out all its transactions on three separate blockchains. Working with Ethereum (ETH), Solana (SOL), and Stellar (XLM) chains, Mushe (XMU) makes fast and inexpensive transactions.
The project includes a staking program that will pay investors with passive income and various methods. Anyone with 125 thousand or more tokens can participate in the program. The program also offers the chance to have a say in the DAO.
The metaverse universe, called MusheVerse, is defined as one of the main pillars of the project. It is stated that in this universe, there will be play-to-earn mechanics, NFT assets, and many different exciting items. It is announced that all decentralized applications of the ecosystem will also be actively used in the Metaverse universe.
Chainlink (LINK)
With a market value of over $2.9 billion, Chainlink (LINK) is one of the most innovative projects in the industry. The purpose of Chainlink is to provide a secure and decentralized way to connect blockchain-based smart contracts with real-world data. To do this, Chainlink (LINK) uses a network of nodes that are connected to external data sources. This allows smart contracts to access data from sources such as weather data, financial data, and more. Chainlink is also constantly expanding its network of nodes, making it more secure and reliable. Overall, Chainlink (LINK) is an awe-inspiring project that is well worth keeping an eye on.
Versatile Functions of Loopring (LRC) Provide Easiness
Projects like Loopring (LRC) are layer two solutions that offer to help Ethereum (ETH) in solving problems with volume transactions. These large-scale procedures cause congestion, increasing the transaction price and driving people off the network. Loopring ensures that transactions are processed on a separate chain from layer one to achieve its goal. It uses zkRollups as a tool that adds transactions to batches and makes them perform faster. A typical example is choosing to take a single bus, paying a cheap fare, instead of each person taking a separate taxi. zkRollups is a next-generation technology that provides trust-based information without disclosing the details of transactions.
All three of these coins have the potential to make you a profit. Mushe (XMU) is excellent due to its low price and high potential return. Chainlink (LINK) is also worth investing in, as its value will only go up in the future. Loopring (LRC) is a more risky investment, but it could pay off soon if it becomes successful.
Find out more about Mushe's presale down below:
Mushe (XMU)
Website: https://mushe.world/ 
Twitter: https://twitter.com/Mushe_World
Telegram: https://t.me/musheworldXMU
Disclaimer: This is a paid release. The statements, views and opinions expressed in this column are solely those of the content provider and do not necessarily represent those of NewsBTC. NewsBTC does not guarantee the accuracy or timeliness of information available in such content. Do your research and invest at your own risk.